"Threateningly big tits" are, according to George Carlin, the essence of advertising. I was reminded of that quote when recently my adblocker let this ad on Facebook slip through: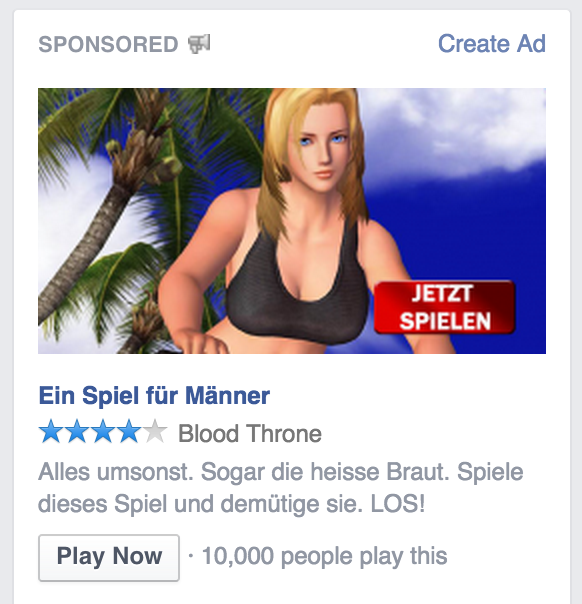 The caption says "All free, even the hot chick. Play this game and humiliate her. NOW!", but in this post I don't want to talk about how horribly wrong it is that Facebook even allows such ads. I was shocked, even more so than I almost always am when seeing ads on the web because usually I don't see any ads. I can't even imagine using the web without an adblocker (my weapon of choice is Privoxy as it works browser-independently). And I don't think I've ever met someone who could, given they've already been introduced to the concept of blocking ads.
This prototype of a "real life" version of said concept is a very intriguing idea. Nowhere near as useful, even if you forget the fact that you currently need a gigantic HUD and some kind of VR gear to use it. Let's say in 10 years everyone is using a iFacePlus RiftHoloMorpheus thingy, a Glass-like device even less obtrusive than contact lenses, with more processing power than current laptops have. Even then I don't think it would be algorithmically possible to create a "real life experience" that is ad-free in a way that adblockers enable us to experience the web (almost) ad-free. Due to the limits of image processing we'd (almost) always notice when something from the actual view of our world was missing or blurred out as opposed to not even notice when a website would actually have ads.
In the HN discussion of that project I learned about the Lei Cidade Limpa, "a law of the city of São Paulo, Brazil promulgated in 2006 that prohibits advertising such as that of outdoor posters." There's a flickr gallery showing photos from this ad-free version of a city. It does have some kind of a dystopian feel about it, and empty or overpainted ad spaces are quirks similar to what an imperfect ad-free version an ideal image processing VR-based adblocker would show. But I love the idea. I can't believe this is not much more widespread yet. Why are we accepting to be bombarded with deception and manipulation whenever we step outside?
I've often thought about how much I'd like to have an ad-free way of shopping. The incredible amount of psychological warfare against our own instincts and better knowledge as soon as we enter a modern supermarket or mall is pretty much common knowledge, but no matter how aware you are of it – it still works. Just like watching television ads, no matter how silly you think they are, will increase your awareness of the featured brands.
I don't need any fancy packaging, I'd much prefer the simple approach of the Dharma initiative. It has been accepted that most of the stuff we buy comes from the same factory and is simply packaged differently by brands or generic distributors. Why not just drop the charade? I'm tired of wading through the hyperboles and lies printed onto food packaging whenever trying to select a good product.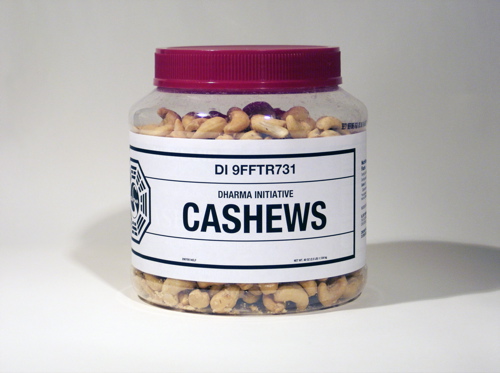 Sure, going all LOST on food packaging and supermarkets might be a bit extreme. I'd still prefer it to the other extreme that happens to be our normal. Just like I'd prefer the São Paulo way of protecting citizens from ads and not the other way around. As Banksy said:
Any advertisement in public space that gives you no choice whether you see it or not is yours. It belongs to you. It's yours to take, rearrange and re-use. Asking for permission is like asking to keep a rock someone just threw at your head.